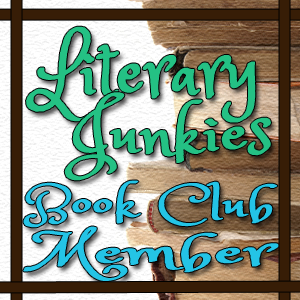 The details:
The Literary Junkies Book Club "head quarters" is in a private Facebook group. Here we encourage discussion about all things books!
We "meet" monthly – the 3rd Tuesday of every month. This date coincides with the Literary Junkies link-up that Lesley (By the Porchlight) and I also host.
On these book club Tuesdays, we host a Twitter party at 7pm CST! This is a chance for the club members to chat in real-time about the book we just finished reading. Grab your favorite beverage and cozy up with us as we discuss the month's book club pick. We will use the hashtag #LiteraryJunkies during our Twitter party. If you aren't able to attend the party, you'll still be able to read the party conversations afterwards by searching our hashtag. We also offer month-long discussion of our book club pick in our Goodreads Group. We've chosen to not have the discussion in our Facebook group so that those that haven't finished reading it aren't spoiled by the conversation.
Literary Junkies Book Club's currently-reading …
23 members

Find us on Facebook at https://www.facebook.com/groups/literaryjunkies/
Books we're currently reading
Diamond in the Rough: A Memoir
by
Shawn Colvin
Start date: April 17, 2013




View this group on Goodreads »
Here's the upcoming reading list:
AUGUST: The Perks of Being a Wallflower by Stephen Chbosky



Synopsis:
Charlie is a freshman.
And while he's not the biggest geek in the school, he is by no means popular. Shy, introspective, intelligent beyond his years yet socially awkward, he is a wallflower, caught between trying to live his life and trying to run from it.
Charlie is attempting to navigate his way through uncharted territory: the world of first dates and mix tapes, family dramas and new friends; the world of sex, drugs, and The Rocky Horror Picture Show, when all one requires is that perfect song on that perfect drive to feel infinite. But he can't stay on the sideline forever. Standing on the fringes of life offers a unique perspective. But there comes a time to see what it looks like from the dance floor.
The Perks of Being a Wallflower is a deeply affecting coming-of-age story that will spirit you back to those wild and poignant roller-coaster days known as growing up.
SEPTEMBER: Seabiscuit: An American Legend by Laura Hillenbrand

Goodreads.com Synopsis:
Seabiscuit was one of the most electrifying and popular attractions in sports history and the single biggest newsmaker in the world in 1938, receiving more coverage than FDR, Hitler, or Mussolini. But his success was a surprise to the racing establishment, which had written off the crooked-legged racehorse with the sad tail. Three men changed Seabiscuit's fortunes:
Charles Howard was a onetime bicycle repairman who introduced the automobile to the western United States and became an overnight millionaire. When he needed a trainer for his new racehorses, he hired Tom Smith, a mysterious mustang breaker from the Colorado plains. Smith urged Howard to buy Seabiscuit for a bargain-basement price, then hired as his jockey Red Pollard, a failed boxer who was blind in one eye, half-crippled, and prone to quoting passages from Ralph Waldo Emerson. Over four years, these unlikely partners survived a phenomenal run of bad fortune, conspiracy, and severe injury to transform Seabiscuit from a neurotic, pathologically indolent also-ran into an American sports icon.
Author Laura Hillenbrand brilliantly re-creates a universal underdog story, one that proves life is a horse race.
OCTOBER: Let the Dead Sleep by Heather Graham

Goodreads.com Synopsis:
It was stolen from a New Orleans grave – the centuries-old bust of an evil man, a demonic man. It's an object desired by collectors – and by those with wickedness in their hearts.
One day, its current owner shows up at Danni Cafferty's antiques shop on Royal Street, the shop she inherited from her father. But before Danni can buy the statue, it disappears, the owner is found dead…and Danni discovers that she's inherited much more than she realized. In the store is a book filled with secret writing: instructions for defeating evil entities. She'd dismissed it as a curiosity…until the arrival of this statue, with its long history of evil and even longer trail of death.
Michael Quinn, former cop and now private investigator, is a man with an unusual past. He believes that doing the right thing isn't a job – it's a way of life. And the right thing to do is find and destroy this object weighted with malevolent powers. He and Danni are drawn together in their search for the missing statue, following it through sultry New Orleans nights to hidden places in the French Quarter and secret ceremonies on abandoned plantations.
Cafferty and Quinn already know that trust in others can be misplaced, that love can be temporary. And yet their connection is primal. Mesmerizing. They also know that their story won't end when this case is closed and the dead rest in peace once again.
NOVEMBER: The Storyteller by Jodi Picoult

Goodreads.com Synopsis:
Sage Singer befriends an old man who's particularly beloved in her community. Josef Weber is everyone's favorite retired teacher and Little League coach. They strike up a friendship at the bakery where Sage works. One day he asks Sage for a favor: to kill him. Shocked, Sage refuses…and then he confesses his darkest secret – he deserves to die, because he was a Nazi SS guard. Complicating the matter? Sage's grandmother is a Holocaust survivor.
What do you do when evil lives next door? Can someone who's committed a truly heinous act ever atone for it with subsequent good behavior? Should you offer forgiveness to someone if you aren't the party who was wronged? And most of all – if Sage even considers his request – is it murder, or justice?
DECEMBER: Safe Haven by Nicolas Sparks

Goodreads.com Synopsis:
Love hurts. There is nothing as painful as heartbreak. But in order to learn to love again, you must learn to trust again.
When a mysterious young woman named Katie appears in the small North Carolina town of Southport, her sudden arrival raises questions about her past. Beautiful yet self-effacing, Katie seems determined to avoid forming personal ties until a series of events draws her into two reluctant relationships: one with Alex, a widowed store owner with a kind heart and two young children; and another with her plainspoken single neighbor, Jo. Despite her reservations, Katie slowly begins to let down her guard, putting down roots in the close-knit community and becoming increasingly attached to Alex and his family.
But even as Katie begins to fall in love, she struggles with the dark secret that still haunts and terrifies her . . . a past that set her on a fearful, shattering journey across the country, to the sheltered oasis of Southport. With Jo's empathic and stubborn support, Katie eventually realizes that she must choose between a life of transient safety and one of riskier rewards . . . and that in the darkest hour, love is the only true safe haven.
If you are a Literary Junkie, come join this awesome online Book Club!!!
Are you an author or publisher? Interested in having our group read your book? Interested in having a some of our members review your book? Email Taylor @ pinkheelspinktruck(at)gmail(dot)com or click the link. As of 7/15/2013, our online book club consists of over 70 bloggers.